Become an Entrepreneur with Handyman Connection
Uncategorized | November 29, 2018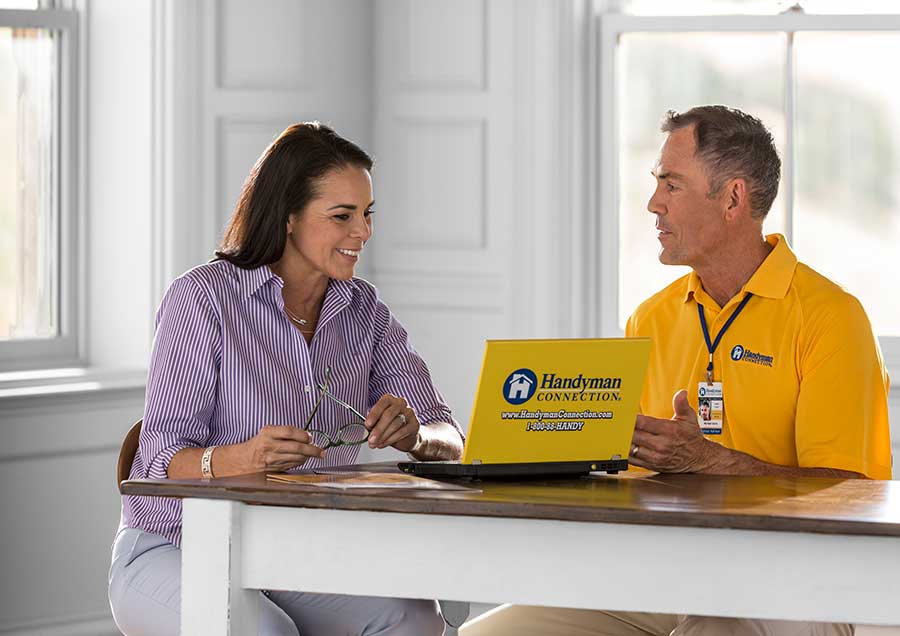 Why choose a handyman business as your next entrepreneurship?
In today's fast-paced world, homeowners constantly seek reliable and skilled professionals to maintain, repair, and enhance their properties. The home improvement and repair industry is evergreen, offering many opportunities for entrepreneurs looking to make a positive impact in their communities and build a successful business. One franchise opportunity that has been gaining attention for its promising potential is Handyman Connection. In this blog, we'll delve into the world of Handyman Connection and explore why it's a fantastic franchise opportunity for aspiring business owners.
The Handyman Connection Difference
Handyman Connection is a leading home repair and improvement franchise with a reputation for excellence. With a history dating back to 1991, the brand has a proven track record in delivering high-quality handyman services, making it a trusted name in the industry.
What sets Handyman Connection apart are the core principles that underpin its franchise model:
Diverse Service Offerings: Handyman Connection provides a wide range of services, including plumbing, electrical work, carpentry, and general home repairs. This diverse set of services ensures that customers can turn to their franchisees for various household needs.
Skilled Craftsmen: The backbone of Handyman Connection is its team of highly skilled craftsmen and professionals. As a franchisee, you have access to this talent pool, which can help you maintain high-quality service standards.
Proven Business Model: Handyman Connection's franchise model is tried and tested. The company has been refining its processes and systems for decades, ensuring that franchisees have the tools and resources needed for success.
Territory Development: As a franchisee, you'll have the opportunity to secure a defined territory, giving you the exclusive rights to offer Handyman Connection services in your area. This can be a significant advantage in building a local customer base.
Why Invest in Handyman Connection?
A Growing Industry: Home repair and improvement services are in constant demand. As homeowners continue to invest in their properties, there's no shortage of opportunities for a Handyman Connection franchisee.
Strong Brand Recognition: The Handyman Connection name is widely recognized and respected in the industry. This can greatly aid in attracting and retaining customers.
Training and Support: Handyman Connection provides comprehensive training and ongoing support to its franchisees. This includes assistance in marketing, operations, and business development, ensuring that you're set up for success from day one.
Flexibility: The business model allows for flexibility in terms of the size and scope of your franchise. Whether you want to start small or expand rapidly, there's room for growth within the Handyman Connection system.
Community Impact: Running a Handyman Connection franchise can be incredibly rewarding. You'll be helping homeowners in your community improve and maintain their homes, making a tangible difference in their lives.
How to Get Started
If you're intrigued by the Handyman Connection franchise opportunity and would like to get started, the process typically involves the following steps:
Initial Inquiry: Begin by expressing your interest in franchising with Handyman Connection. You can usually do this by visiting their website or contacting their franchise development team directly.
Information Gathering: You'll receive detailed information about the franchise, including the franchise disclosure document (FDD). This document provides important details about the franchise and its financials.
Meet the Team: You'll have the opportunity to speak with Handyman Connection's franchise development team to ask questions and get a better understanding of the opportunity.
Visit Existing Franchisees: If you're seriously considering investing, you might have the chance to visit existing Handyman Connection franchisees to see their operations in action.
Franchise Agreement: If both parties are comfortable with moving forward, you'll sign a franchise agreement and complete the necessary paperwork.
Training and Support: You'll undergo training and receive ongoing support as you launch and grow your Handyman Connection franchise.
The Handyman Connection franchise opportunity offers a compelling avenue for aspiring entrepreneurs and business owners looking to make their mark in the evergreen home improvement and repair industry. With its solid reputation, diverse service offerings, and proven business model, Handyman Connection provides the tools and resources you need to build a successful business. If you're passionate about helping homeowners in your community while running a profitable venture, it's a franchise worth exploring. As with any business endeavor, thorough research and due diligence are key to making an informed decision, so take the time to evaluate if Handyman Connection is the right fit for you and your goals.