Handyman Business Opportunities in Chicago
There's a lot of demand for home repair, home improvement and home remodeling projects for homes in the Chicago area, so the need for exclusive franchising territories in Chicago increases. Homeowners want a name they can trust, and Handyman Connection has the backing and credentials they need, and we're a cornerstone in the home improvement industry.
With a Handyman Connection franchise, you are part of a multinational team. Homeowners often face various maintenance and repair problems during their homeownership, and that opens up a lot of business opportunity for your franchise in Chicago. You can build that ownership and trust with your clientele, and provide your community with first-rate home improvement services.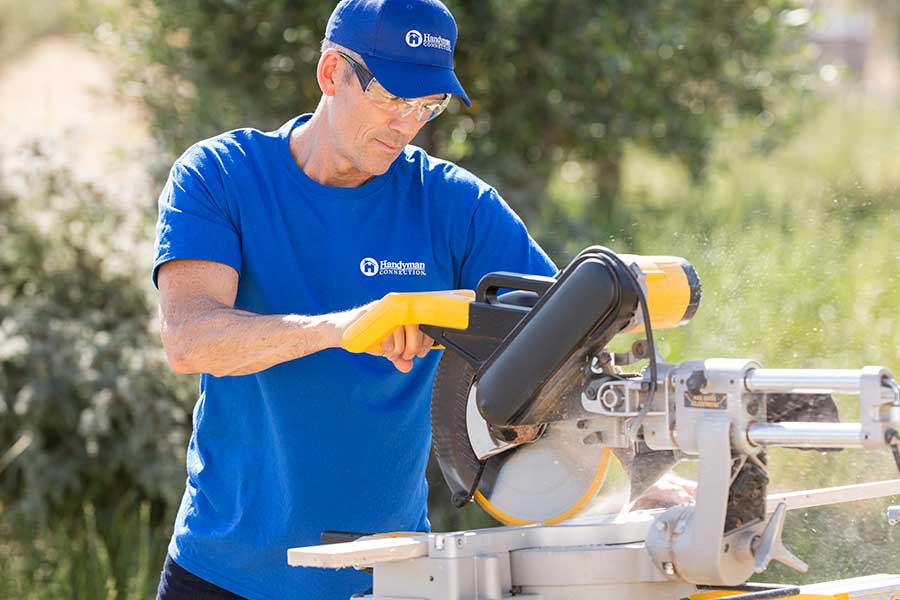 Be Your Own Boss with a Home Improvement Franchise – Handyman Connection
Are you ready to work for yourself? Handyman Connection is a great small-business franchise with plenty of opportunity for you to establish yourself. Get the support you need. With a home improvement franchise with Handyman Connection, you have a trusted, well-known brand with a proven business model and a supportive parent company as a backing. Are you Handyman Connection material? If you have strong organizational skills, leadership, work ethic and a drive to succeed, then you're ready for an exclusive franchise opportunity. What are the main perks of being a franchise owner? You can:
Be your own boss
Build your own business
Drive your own success
And more!
Handyman Connection has been a reliable home improvement company for over 20 years throughout North America. Every Handyman Connection franchise is independently owned and operated. This has given us the opportunity to develop successful partnerships with experienced contractors. Get started with us and begin your successful franchise today in the Chicago area.
Who We're Looking For
We don't expect our franchisees in Chicago to have all the skills when they join the Handyman Connection team. But we are seeking individuals who have the traits of an outstanding entrepreneur. These traits consist of:
Being able to adapt to new things and industry trends
Leadership
Strong work ethic
Focus
Drive
Support
These are characteristics that can make your home improvement franchise a success.
Additionally, our franchisees in Chicago need to recognize job opportunities and be able to manage the completion of them efficiently. Franchise owners also need to be a leader, a business professional and dedicate long hours while assuming accountability for every job performed no matter what the outcome may be. Franchise owners also need the organizational skills and an understanding of finances to drive the success of their business.
Available Handyman Connection Franchise Territories in Chicago
Handyman Connection is a well-established name with a proven business model for success. Becoming a franchise owner is a great way to build your own business and your financial freedom. Every Handyman Connection franchise is backed by the company that started it all, including your franchise in Chicago. Handyman Connection's values of quality-work, trustworthiness and its dedication to customers have given us our positive reputation in the home improvement industry. Get your franchise in Chicago started today.