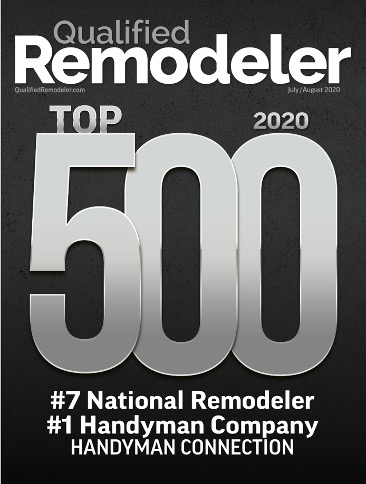 Handyman Connection is deeply honored to be recognized by Qualified Remodeler's 2020 Top 500 list for the tenth consecutive year, earning the #1 spot as the Leading Home Repair Franchise by Industry Publication!
Qualified Remodeler is a leading publication serving remodelers and home improvement companies in the U.S.
Each year, Qualified Remodeler showcases the top remodelers of the year featuring those that showcase outstanding business achievements, industry certification, and community service.
"It is a tremendous honor to be named a top remodeler of 2020 by Qualified Remodeler," said CEO and President Jeff Wall. "This award recognizes Handyman Connection's decades worth of success and we are excited to continue delivering quality service and expertise to customers all across the nation."
Additional information on the Top 500 can be found in the August issue of Qualified Remodeler and the full list at https://www.qualifiedremodeler.com/top-500-2020/.